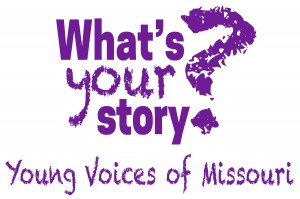 Why should I submit work to the Young Voices of Missouri project?
The Young Voices of Missouri project is structured like a traditional literary journal, where writers submit work and journal editors select the best submissions to include in an issue of the journal. But unlike submitting work to a typical literary journal, your work will be compared to other writers in your age group, not to the work of older and more experienced writers.  Publication in Young Voices of Missouri 2017 allows young writers to have their work presented to a broader audience at an age when most writers cannot get work published.  Participation in the Young Voices of Missouri project provides young writers an opportunity to receive feedback and advice on their work not usually available to them at this stage in their writing careers.
What genres or subjects do you accept?
Most literary journals publish short stories, essays, and poetry, and the Young Voices of Missouri project focuses on those three categories.  Within each category, there are no limits on genre or subject matter. There are only two exceptions: we do not accept fan fiction and we discourage work whose primary function is religious or political proselytizing.  However, decisions on what to accept will not be made based on subject matter, genre, or views expressed, but will be based only on how well the writer works within his or her chosen subject matter and genre, and how well the writer expresses his or her views.
So what's wrong with fan fiction? And what's wrong with religious or political writings?
Fan fiction uses characters created by another party and so cannot be considered to be truly original. There are websites devoted to fan fiction that are appropriate places to read and be read.
There's nothing wrong with religious or political writings either, but the journal's focus is literary and there are more appropriate venues for presenting a theological viewpoint or arguing for (or against) a certain political perspective.
How are works selected for publication?
All work submitted to the Young Voices of Missouri project will be screened by a panel of Truman State University students working under the supervision of a Truman faculty member. There is a separate screening panel for each genre (poetry, short fiction, and essay). After the screening panel narrows down the selections, final decisions on which works to publish will be made by the journal editors.
Who makes the selections?
Screeners will be upper-division college students selected based on recommendations of their professors. Screeners may be English majors or students in the bachelor of fine arts (BFA) program or the master of arts in education (MAE) program with a focus on teaching English. The screeners narrow down the list and make recommendations to the journal editors and guest editors, who will make the final decisions on what to include. The journal editor is Jamie D'Agostino. James D'Agostino is an assistant professor of English at Truman State University, focusing on creative writing and poetry.  He has had numerous poems published in journals such as Zone 3, Three Candles Journal, Conduit, Born Magazine, Indiana Review, Denver Quarterly, and Green Mountains Review. His latest poetry collection, Slur Oeuvre, was published by New Michigan Press in 2011.
What kind of work gets picked for publication?
The screeners and editors are looking for work that demonstrates a familiarity with the conventions of the genre and the mechanics of writing, but mostly work that demonstrates the writer's imagination and originality.
What if my work doesn't get picked for publication?
Because this project is structured like a traditional literary journal, not everybody who submits work will get published. But all writers who submit work to the Young Voices of Missouri project will get substantive feedback from the screening panel and/or editors.  We hope that the comments and suggestions will help you as you continue to work on your writing.
Who gets copies of the journal?
Each teacher whose students participate will get a copy of Young Voices of Missouri 2017 for his or her classroom and each participating school will get a copy for the school library.  Each student whose work is selected will get a copy of the journal.  Additional copies may be purchased from Truman State University Press for a nominal fee.  Young Voices of Missouri 2017 will also be available on the Press's website and through its normal distribution routes.  The journal will remain in print as long as there is a demand for copies of the journal and the Press has copies to sell.
How is the Young Voices of Missouri project related to the journal Chariton Review and to Truman State University Press?
Chariton Review was founded in 1975 and is one of the oldest literary journals in Missouri.  Truman State University Press publishes Chariton Review, and Press staff fill the positions of managing editor, production editor, and sales/marketing manager. The journal's editor and associate editor are both faculty at Truman State University's Department of English, and students from the English Department serve as editorial assistants for the journal.
The Young Voices of Missouri project is coordinated, produced, and distributed by Press staff who work with Chariton Review, but the Young Voices of Missouri project has its own editorial staff, which may (or may not) include editorial staff for Chariton Review.
Each issue of Young Voices of Missouri will be published as a special issue of Chariton Review, which means it will be in addition to the standard two issues a year. Subscribers to Chariton Review will not automatically receive copies of Young Voices of Missouri 2017.
Still have questions?  E-mail Chariton Review managing editor Barbara Smith-Mandell at YoungVoicesMO@truman.edu
Young Voices FAQs [pdf download] youngvoicesmo-2017-faqs